I have 4 KM's. I just received the Double Copper Tri Metal from
http://www.hookahstore.com/hookahs-k...c-28_3_52.html
First of all, let me say I was blown away by the excellant service by
www.hookahstore.com
! The package came damaged, and Alvin sent me a new one no questions asked, and threw in so many freebies to make up for it! I am forever gratefull on how good he treated me, that I strongly recommend using them as your main source for hookahs and hookah products.
Now, on to the hookah. This is my 4th KM. Just to give you some background on my experience with Khalil Mamoon,
I have the Exotica -
http://www.hookahstore.com/hookahs-k...kah-p-145.html
I have the Heart of Lion tri metal
http://www.hookahstore.com/hookahs-k...kah-p-689.html
I have the Kafe (medium)
http://www.hookahstore.com/hookah-st...tem-p-361.html
Out of all my KM's, I love the double copper tri, THE MOST!!!!
It is the heaviest of all 4 that I own. It is the tallest at 38". It produces the coolest, thickest smoke. And I think it looks the best too.
I give this hookah a 10/10. I can't think of a more perfect hookah in any way. I am new to the hookah scene, and when I first started looking, I had reservations about getting a 38" hookah. After working my way up to that height, I like it the most. If I could trade all the others, for more double copper tri metals, I would do it in an instant! I easily clean it in my kitchen sink, using the hose next to the faucet. If I did not have a hose in the sink, I would have to use the bathtub, or garden hose.
For anyone looking for a KM, I strongly recommend Alvin, at
www.hookahstore.com
and I recommend this hookah.
With the 20% off coupon, it is a great deal, and something that will last for years and years!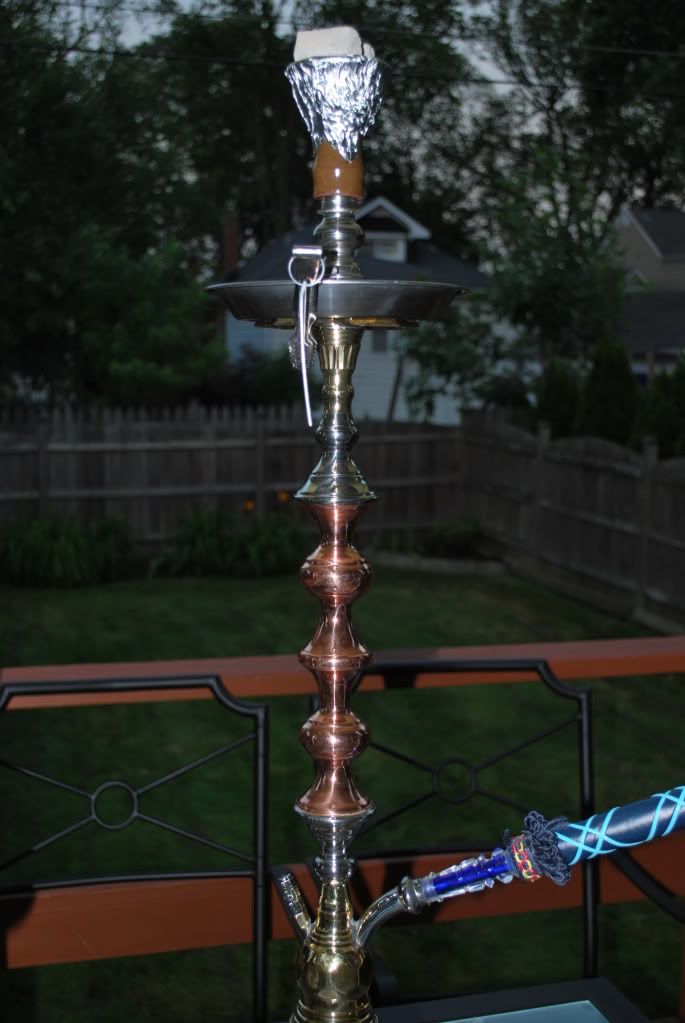 Also, to give some comparisons against the other KM's I own.
VS the "Exotica"
- "The double copper tri" is MUCH HEAVIER than the "exotica". They are about the same height, which I like. But I prefer the beefier, sturdier feeling of the double copper. The Exotica is hollow, and very light. Doesn't seem as sturdy. But the thing I like the most about the Exotica is the height.
VS the "Heart of Lion Tri Metal" and the "Kafe"
- The Kafe is a full cast, and is very solid, and very heavy. Its practically indestructable! "The Heart of Lion Tri Metal" is very pretty, but hollow.
Both are beautiful stems, but they are 28" and 32", and after smoking a 38" Double Copper Tri (and an Exotica), I will never go back. I greatly prefer the taller size of the Double copper tri, and the Exotica.
IN ORDER I WOULD RATE THEM LIKE THIS
#1-Double Copper Tri Metal
38" -- by far the absolute best KM I have. Tall and very heavy and sturdy! Makes THICK, COOL clouds. ITS A DREAM!
#2-Exotica 38" (I love the height, and it looks amazing!, but I don't like how light, and hollow it is)
#3 -A tie between "Heart of Lion Tri Metal" and the "Kafe" full cast. Beautiful stems! And smoke GREAT! But 28" and 32" are too short in my opinion. (they work good as a daily smoker, that cleans easily)
That being said, even my lowest rated Khalil Mamoon, smokes way better than any other hookah I've smoked including generic Egyptian rotators, generic Chinese, and Syrians that I've used at my local hookah lounges.
Hope this helps....